Blond, hazel eyed, nine year-old Sarah Pryor, went for a walk outside her family's home in the Concord Road neighborhood of Wayland, Massachusetts on a beautiful October afternoon. It was reported that she was last seen walking north along Rte. 126 in Wayland, near the Lincoln town line.. She was never seen again. Sarah, her parents, and her 15 year-old sister and 17 year-old brother had moved to Massachusetts six weeks earlier. Search efforts were unsuccessful and the case went cold
A month later, a paroled murderer emerged as a prime suspect when he attempted to kidnap a young girl from a near-by neighborhood. Circumstantial evidence placed him on Sarah's path the day of her disappearance. In 1986, he was returned on parole violation to Texas to serve out his original life sentence. Every three years, Sarah's mother, family, and friends must actively fight against his parole.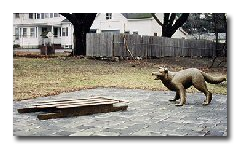 After 13 years of searches, tips, and false sightings, a bone fragment was identified through new DNA technology as that of Sarah. She was laid to rest on January 13, 1998, on what would have been her 22nd birthday. Sarah was an enthusiastic, happy child who loved her family dearly and lived life to its fullest every single day of her short time on earth.
The case remains unsolved, despite a dubious confession and multiple suspects, including convicted Texas killer John Whirty.
Whirty is a Massachusetts native who investigators believe kidnapped both Sarah Pryor and another girl, Cathy Malcolmson, 17, whose remains have not been found.
---
Leave a Reply
Your email address will not be published.